10 Best Accommodation Options in Bali
11/09/2023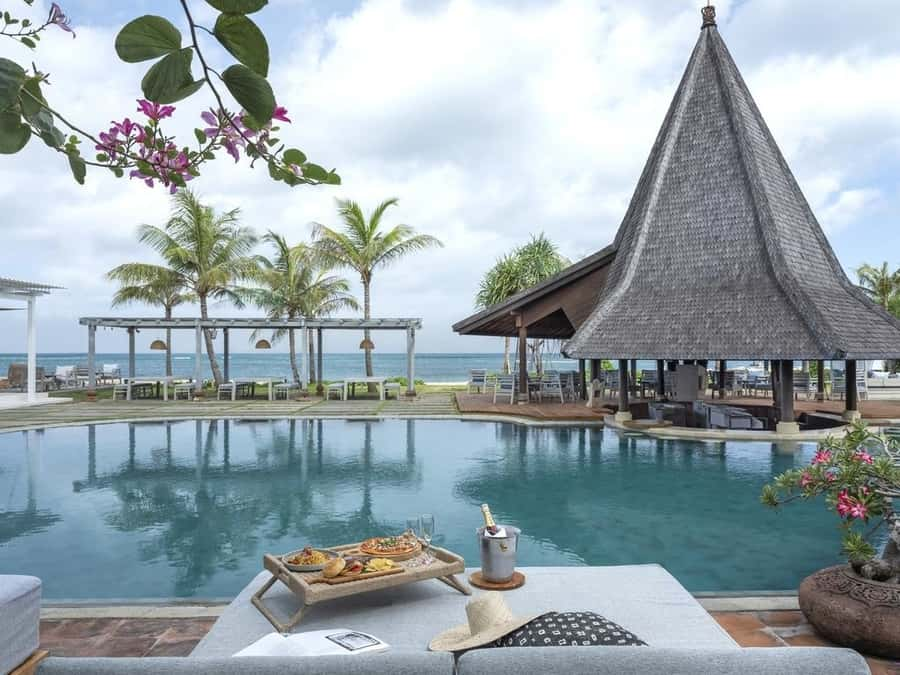 Bali, with its pristine beaches, lush landscapes, and vibrant culture, is a dream destination for travelers seeking a tropical escape. Choosing the right accommodation can greatly enhance your experience on this Indonesian island. For better plane ticket prices, we recommend looking for promotional flight prices for a more affordable option.
Whether you're looking for luxury or budget-friendly options, Bali offers a diverse range of hotels and hostels that cater to various preferences. Here's a curated list of some of the best places to stay in Bali for an unforgettable getaway.
AYANA Resort and Spa, Jimbaran
Address: 647Q+GP, Jimbaran, South Kuta, Badung Regency, Bali
Nestled on the picturesque cliffs of Jimbaran Bay, AYANA Resort and Spa is a luxurious haven that offers breathtaking ocean views and world-class amenities. With a private beach, multiple pools, and a renowned spa, AYANA provides an indulgent escape. The resort's unique Rock Bar, perched on natural rocks above the Indian Ocean, is a must-visit for sunset cocktails.
Four Seasons Resort Bali at Sayan
Address: Jl. Raya Sayan, Sayan, Kecamatan Ubud, Kabupaten Gianyar, Bali 80571
For a serene jungle retreat, the Four Seasons Resort Bali at Sayan is a top choice. Set amidst lush rainforests and rice terraces near Ubud, this luxurious resort offers spacious villas, a stunning infinity pool, and a range of wellness activities. The Sacred River Spa provides traditional Balinese treatments for a truly rejuvenating experience.
Address: Jl. Raya Sayan, Sayan, Kecamatan Ubud, Kabupaten Gianyar, Bali 80571
Known for its tranquility and wellness offerings, COMO Uma Ubud is an intimate retreat located just outside Ubud. The resort features beautifully designed rooms, a holistic spa, and yoga classes. Immerse yourself in nature while enjoying personalized service and exceptional dining options.
Address: Kerobokan, Jl. Petitenget, Seminyak, Kabupaten Badung, Bali 80361
If you're seeking a trendy and vibrant atmosphere, W Bali in Seminyak is the place to be. This stylish beachfront resort boasts modern rooms, a dynamic pool area, and an array of dining and nightlife options. The resort's iconic Woobar is a hub for music and cocktails, making it a popular spot for socializing.
Address: Banjar Pipitan, Jl. Kubu Manyar No.22, Canggu, Kec. Kuta Utara, Kabupaten Badung, Bali 80361
For a more laid-back and surfer-friendly vibe, consider The Chillhouse in Canggu. This boutique hotel and surf retreat offers cozy rooms, a tropical garden, and a pool. Yoga classes, surf lessons, and healthy dining options contribute to a relaxed and active stay.
Sheraton Bali Kuta Resort
Address: Jl. Pantai Kuta, Kuta, Kec. Kuta, Kabupaten Badung, Bali 80361
Situated directly on Kuta Beach, the Sheraton Bali Kuta Resort offers a prime location for beach enthusiasts. The resort's modern and elegant rooms provide ocean or pool views, and the infinity pool overlooks the mesmerizing coastline. With a full-service spa, multiple dining options, and close proximity to shopping centers, the Sheraton offers a well-rounded experience.
Address: Padma Resort Ubud Banjar Carik, Desa, Puhu, Kec. Payangan, Kabupaten Gianyar, Bali 80572
Nestled in the lush hills of Ubud, Padma Resort offers a blend of luxury and natural beauty. The infinity pool overlooks the rainforest, creating a serene and picturesque setting. The resort's elegant rooms and Balinese-inspired design provide a truly immersive experience.
Mandapa, a Ritz-Carlton Reserve, Ubud
Address: Jl. Raya Kedewatan, Banjar, Kedewatan, Kecamatan Ubud, Kabupaten Gianyar, Bali 80571
Situated along the Ayung River in Ubud, Mandapa, a Ritz-Carlton Reserve, immerses guests in the heart of Balinese culture and natural beauty. The resort's spacious suites and villas feature private pools and breathtaking views. Mandapa Spa offers holistic treatments inspired by Balinese traditions. Guests can also partake in cultural activities, such as rice planting and traditional Balinese ceremonies.
Bulgari Resort Bali, Badung
Address: Banjar Dinas Kangin Jalan Goa Lempeh Jalan Raya Uluwatu, Kabupaten Badung, Bali 80364
Perched on a cliff top overlooking the Indian Ocean, the Bulgari Resort Bali in Badung offers unparalleled luxury and sophistication. The resort's private villas boast stunning ocean views, exquisite Italian design, and plunge pools. Guests can indulge in fine dining at Il Ristorante – Luca Fantin and relax at the cliff-edge spa. The pristine private beach and lush gardens add to the allure of this exclusive retreat.
Munduk Moding Plantation, Buleleng
Address: Jl. Asah Gobleg, Gobleg, Kec. Banjar, Kabupaten Buleleng, Bali 81152
For a truly off-the-beaten-path experience, Munduk Moding Plantation offers an eco-luxe escape in the tranquil village of Munduk. Surrounded by coffee and cocoa plantations, this boutique resort features stunning views of the surrounding hills, infinity pools, and sustainable practices.
Whether you're seeking luxury, relaxation, adventure, or a blend of all three, Bali's diverse accommodation options cater to every traveler's preferences. From beachfront resorts to boutique hideaways, your stay in Bali is sure to be enhanced by the island's warm hospitality and stunning natural beauty.